There are a lot of places where you can get podcast music for free which isn't original podcast music. Of course, for many podcasters it is good enough to use music coming from music libraries. However, it isn't possible to make any adjustments when you want to emphasize certain parts in the song. It doesn't matter if it's the intro jingle or the background music. If you truly want a great podcast that is intertwined with its music, you want a professional musician to create their own auditorily world. What is our pricing?
A great example for a podcast that does this extremely well is 99% Invisible. They have in house podcast musicians that create their music to all fit in the 99% invisible universe. Besides the amazing content they create, the music all blends in so well together. Another podcast who has incredible music in the background is Twenty Thousand Hertz. This podcast is probably our favorite sonic world, they put a lot of effort in their content but most of all their music. Again, these podcasts are wonderful to listen to but what if you're having a growing podcast yourself? It's difficult to find freelance podcast musicians because most of them work at larger firms such as Defacto Sounds.
We can create your sonic brand for every story, every podcast and every channel. We have multiple freelance sound engineers and podcast editors to create your sonic brand and edit your podcast all at once. It's understandable that your company doesn't need a unique composition for every podcast but we can make sonic packages which you can reuse every single time, no reoccurring costs, just a one-time purchase.
What is our work process?
We understand that a lot of podcasters don't necessarily need a sonic brand with multiple audio files. For these podcasters we make singular podcast jingles that are uniquely made for your company only. As one of the few podcast editors in Europe, we make original podcast music for our customers. This music is not used by anyone else and is completely tuned to the character of the company.
We will contact you after completing the form.
When we have got acquainted, we ask what your company stands for.
We also ask for some references of what original podcast music you appreciate.
We get to work and within a few days you will receive 2 or 3 jingles.
A choice is made and the jingle is yours from that moment on!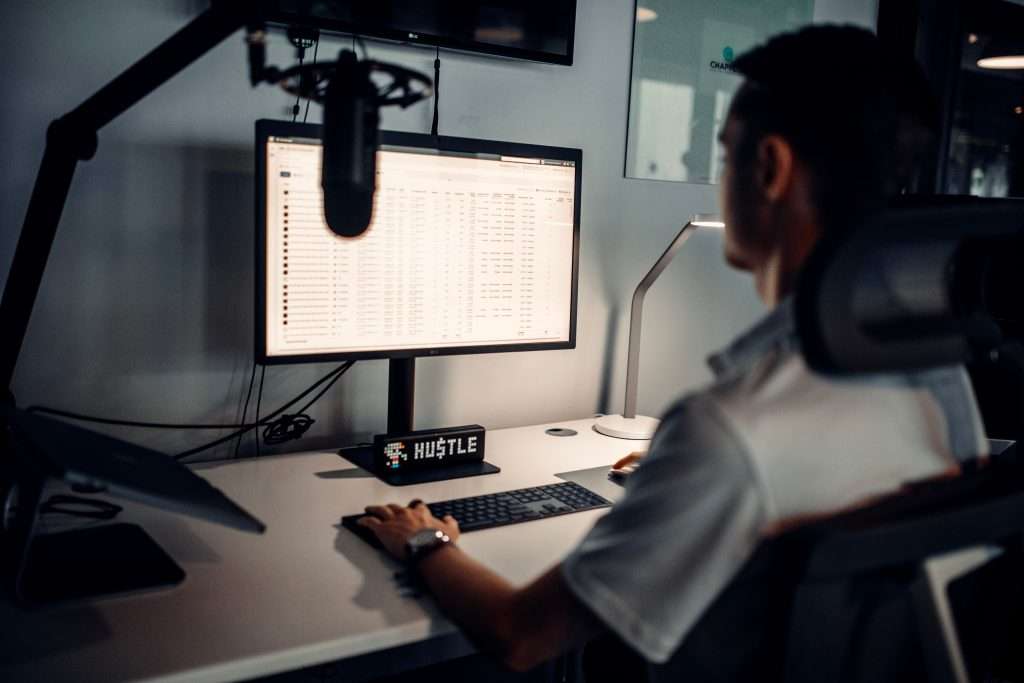 The editing roadmap of our podcast editors
With a notepad next to the editor, he globally writes down striking things in the recordings. Specific moments that were good and things that were maybe a bit less interesting in the recording.
He looks at the audio file and removes large silences and loud sudden noises in the recording. For example, people that are drinking/eating around the microphone, people go to the toilet or hitting the table.
The audio plays and they listen to the rhythm of the person who talks. Some podcast guests are natural speakers, and for some it is a little more difficult (which is totally fine by the way!). When the podcast editor company gets permission, he tries to remove the "superfluous" information, such as many silences, "uhm's" or repeated sentences.
In other cases, the editor tries to change the rhythm of the podcast as little as possible. Especially when the podcast guests are natural speakers and who come out of their words well. But we can assure you, our podcast editors have edited hundreds of podcasts for companies and can guarantee you that this is so much more difficult than it seems at first sight.
Is original podcast music really necessary?
No! There are some podcasts that start talking right away without an intro music to the podcast. However, the podcast must lend itself to such a style. Often such a podcast is a bit more serious – and with all due respect – performed by people who can sometimes come across as a bit boring. Let me give an example of why music has a great effect on the listener.
For almost every podcast, the podcast starts with music. And that it starts with this is not without reason. Original podcast music for podcast affects how we feel at any given moment. When you remove the background music from a movie you will quickly realize how the overall feeling changes. We often don't realize how much of an impact a podcast musician can have for a podcast until it's no longer there.
For example, we often associate positive conversations with elated, happy melodies and heavier subjects with slower, more intense music. By choosing the right music for your podcast, your podcast will create the vibe that immediately puts your listener in the mood that the podcast needs.
Original podcast music automatically makes the podcast more credible and adds high professional value to the show. It instantly grabs people's attention but can also help keep them focused. Of course, music for a podcast doesn't just have to be an intro. In many shows you have sections that each have their own tune. In this way it fills any silence between the subjects and immediately sets the mood. Music that sets the tone for how you want your listeners to feel when they interact with the podcast.
Adding music is simple, but can easily take your show from good to great and help make your podcast more meaningful.